Exceptional ingredients start with exceptional fresh fruit. Learn how our fruit is grown and harvested and meet some of our exceptional growers.
Our exceptional dried fruit starts with high-quality fresh fruit harvested at peak season and flash frozen to preserve its integrity, nutrition, vibrant color, and authentic flavor. We partner directly with quality obsessed growers in the premier growing regions across North America to source the premium fruit that becomes our premium ingredients. Founded and still headquartered in Northern Michigan, we are in the heart of America's leading cranberry, tart cherry, and cultivated blueberry growing region. Learn more about how cranberries, Montmorency cherries, cultivated blueberries, and wild blueberries are grown and harvested, and meet some of our exceptional growers.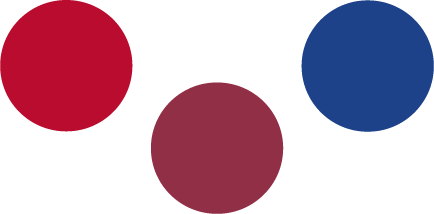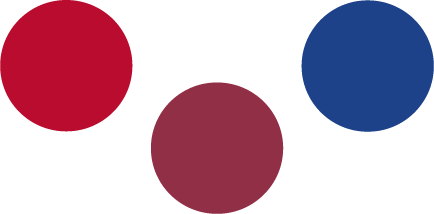 Cranberries are one of only three fruits native to North America…and one of the most unique fruits in the world. Each berry has four internal air chambers that allow the fruit to float, and to bounce, when they are fresh! Plus, every delicious bite delivers exceptional nutrition.
Cranberries grow on low-running, woody, perennial vines that can produce fruit for hundreds of years. The vines thrive on the special combination of soil and water properties found only in wetlands, known as "bogs" or "marshes": acid peat soil beds layered with sand, gravel, and clay; abundant pure freshwater; a growing season from April to November; and a dormancy period over the winter to provide the extended chill necessary to mature fruiting buds. Nearly three-quarters of the world's cranberries are grown in the United States, and over 60% of the US crop is grown in Wisconsin, the primary source for Graceland Fruit cranberries.
Contrary to popular belief, cranberries do not grow in water. Bogs are flooded with water during the winter months to protect the plants from freezing and desiccation but are drained prior to the spring growing season. Cranberries are typically harvested in September-October. At harvest time, the bogs are flooded again to make the berries easier to harvest and collect. Specialized mechanical water reels are guided through the bogs to gently dislodge berries from the vine, allowing them to float to the surface. The floating fruit is corralled with booms and transferred with pumps or conveyors from the bogs into waiting trucks that transport the harvest to receiving stations for cleaning, sorting, and freezing.
Learn more about cranberry growing and harvesting at US Cranberries, Wisconsin Cranberries, and Massachusetts Cranberries.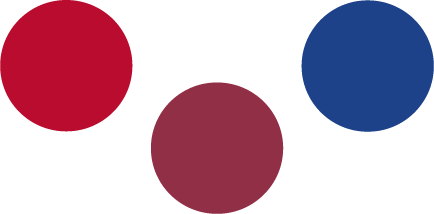 It's no coincidence that Graceland Fruit is headquartered in Michigan…it is the Cherry Capital of the World! In fact, Graceland Fruit was founded by Michigan tart cherry growers as an agricultural cooperative to facilitate the processing and marketing of their annual harvest. Traditionally limited for use as pie filling, Graceland Fruit exponentially expanded the market by pioneering the infused dried fruit process, creating new applications and year-round utilization opportunities for their tart cherry crop. 
Michigan provides the ideal environment for cherries. Well-drained sandy soil, sloped sites to help avoid spring frost, icy cold waters, and full sun create a cool, temperate climate that nurtures the orchards from bloom to harvest. More than two-thirds of the US Montmorency tart cherry crop is grown here on small family farms.
Cherry orchards are dormant October to March, setting next spring's buds when temperatures remain below 45°F. Every two or three years, pruning is conducted during this dormant period. Blooms appear in May, when temperatures rise above 45°F. Each bloom turns into a single tart cherry. Harvest is fast and furious…lasting only a few weeks in late July to early August. Two-piece mechanical harvesters surround the trunk of each tree, shake it, and catch the cherries as they drop. It only takes about 10 seconds to harvest each tree! The cherries are cooled, transported, and placed into cold storage, all within 4-5 hours of harvest. From there, they are de-stemmed, washed, optically sorted for size and quality, pitted, and quick frozen.
Learn more about Montmorency Cherries at Choose Cherries
Meet some of our growers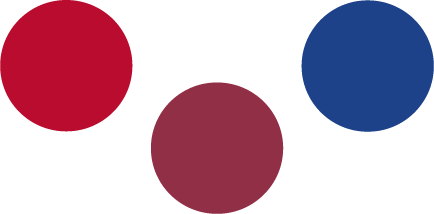 Cultivated (or highbush) blueberries were first introduced in 1916 in New Jersey, the result of work spearheaded by Elizabeth White and Dr. Frederick Colville to propagate blueberry varieties that could commercially replicate the best attributes of the wild blueberries they found growing near their cranberry bogs. Today, cultivated blueberries come from several highbush varieties that are propagated, planted, and harvested in commercial operations. Michigan is the largest producer of cultivated blueberries in the United States, and the primary source for Graceland Fruit blueberries, supplemented by the Pacific Northwest and British Columbia.
Cultivated blueberries thrive on cool nights, hot days, clear blue skies, well-drained acidic soil, and pure freshwater. Fields are planted in rows, and plants grow as high as 6 feet. White blossoms appear in the spring; each blossom becomes one blueberry. Blueberries used for processing are harvested by machines that move slowly along the rows of blueberry plants, gently agitating them so that ripe berries fall into a catching frame. The berries are gathered into large bins and transported to a processing plant where they are inspected, washed, sorted, and frozen. Peak harvest season in North America is mid-June to mid-August, although the season runs from April through September.
Learn more about cultivated blueberry growing and harvesting from the US Highbush Blueberry Council
Meet some of our growers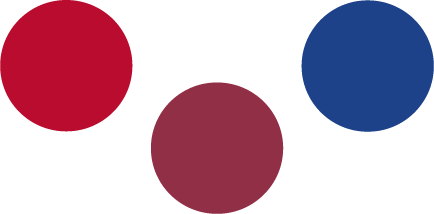 Wild blueberries are also one of only three fruits native to North America. They grow exactly as their name suggests…wild…on barrens found only in Maine, Atlantic Canada, and Quebec. They thrive on rocky slopes in thin glacial, acidic, low-fertility soils, and cold harsh climates. This environment – and what it takes to survive in it – results in smaller berries, a potent sweet-tangy taste, and a higher skin-to-pulp ratio that delivers antioxidant levels unmatched by cultivated blueberries.
Wild blueberries are not planted, they are managed. They spread naturally and slowly from where mother nature put them over 10,000 years ago. Rhizomes (underground runners) give rise to new roots and stems. All shoots from the same rhizome system, called clones, have similar characteristics. However, they are genetically diverse, consisting of hundreds of different naturally occurring varietal clones. This mix gives wild blueberries the unique complex flavor not found in a single variety cultivar.
Harvest starts in late July and continues through August. If a barren is flat and open, it can be harvested by machine. Rocky, hillside, or forest barrens are harvested by hand, using specialized rakes that separate the fruit from the vines and leaves. Winnowing machines are used in the field to remove leaves and twigs before the berries are transported to packing facilities. State-of-the-art technology is used to clean, inspect, sort, and freeze the fruit, all within hours of being picked.
Wild blueberries grow on a two-year cycle. Year one produces fruit buds and year two produces the luscious wild fruit. Each year, half of a grower's land is managed to encourage vegetative growth and the other half is prepared for harvest. After harvest, the barrens are pruned to the ground by flail mowing or burning to keep the native plants dominant and productive.
Learn more about wild blueberry growing and harvesting at Wild Blueberries and Canadian Wild Blueberries
Located in Northwest Michigan, Lutz Farms has supplied Graceland Fruit with high-quality Montmorency cherries since 1988.
Read More
Lutz Farms serves the community with the best in freshly farmed fruits and vegetables, along with Christmas trees and wreaths. The Lutz Farms cherry orchard is Michigan Agriculture Environment Assurance Program (MAEAP) verified. A fourth-generation family farm, Lutz Farms was founded in 1895 as a cattle ranch by Matthew Lutz when he moved to the US from Germany. Matthew's sons Henry and Herman took over the farm in 1939, followed by Herman's son Calvin (Pete) in 1952. Pete gradually transitioned from cattle to growing fruit, vegetables, and Christmas trees. He incorporated Fruit Haven Nursery in 1966 to support these new operations. In 1978, Pete's son, Calvin II, graduated from Michigan State University, purchased his own farm, and became involved in the management of Fruit Haven Nursery. Today, Fruit Haven Nursery and Lutz Farms cover 975 acres that grow cherries, strawberries, pumpkins, other assorted garden vegetables, and Christmas trees. The operation is run by Calvin II and his wife Julie, with help from their three children.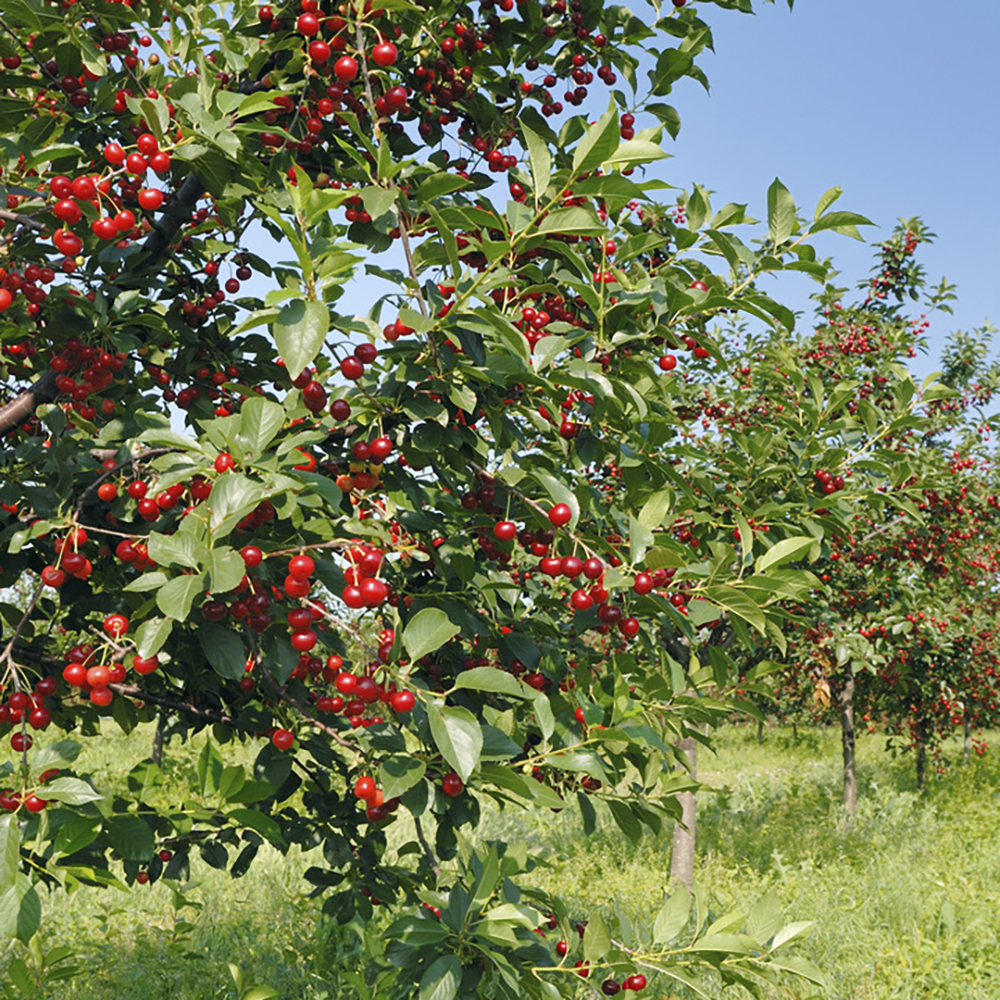 "My wife and I have grown Montmorency tart cherries for Graceland Fruit for over 40 years now. During this time, it has been exciting to see the growth and transformation of both Graceland and the dried fruit industry. We appreciate our partnership and look forward to growing together for years to come." – Jim Nugent, Owner
Read More
Located in Sutton's Bay, Michigan, Sunblossom Orchard is owned and operated by Jim Nugent and his wife, Toddy. Jim and Toddy have grown Montmorency cherries for Graceland Fruit since 1980, first on a small orchard in Benzie County and, since 1985, at Sunblossom Orchard in Leelanau County. The orchard is Michigan Agriculture Environment Assurance Program (MAEAP) verified. All their tart cherries are grown for Graceland Fruit.
Jim's brother, Don Nugent, was the driving force behind Graceland Fruit and served as CEO for many years. Jim has served on the Graceland Fruit Board of Directors, including several years as chairman. What started as a grassroots effort to facilitate the processing and marketing of local cherry crops has grown into the leading innovator in dried fruit ingredients that serves food companies around the world.
Crossroads Blueberry Farm
"In an ever-changing market, we value the partnership that we have with Graceland Fruit. It is one that strives to communicate and accomplish both of our goals." – Dave Reenders, Owner
Read More
Crossroads Blueberry Farm is a fourth-generation, family-owned and operated business. Founded in 1956 by his grandfather and father, today the 700-acre farm is led by Dave Reenders, his wife Kelley, and their daughter and son-in-law, Amber and Luke DeHaan. Located in West Olive, Michigan near the shores of Lake Michigan, Crossroads has grown for Graceland Fruit since 2018.
Working with other local farmers, Crossroads harvests over 5 million pounds of blueberries annually. Their mission is to provide the best quality blueberries to their customers while being good stewards of the land and striving to honor God in all they do. Crossroads operates a state-of-the-art, energy efficient, solar powered packing facility built in 2017. They are Michigan Agriculture Environmental Assurance Program (MAEAP) verified, and their farm, harvesting practices, and packing facility are certified to GFSI food safety standards.
Since 1965, Riverside Cranberry has dedicated itself to growing premium quality cranberries as well as leaving the land in better condition for future generations of growers.
Read More
When Ken Rutlin founded Riverside Cranberry, it was merely a small cranberry marsh planted on 20 acres of land. The marsh required diligent and efficient farming techniques to ensure plentiful crop production would be obtained in a timely manner. In the early years, there was limited capital to invest into equipment, for that reason the majority of the labor was provided by friends and family. Today, Riverside Cranberry has blossomed into a thriving, family-owned cranberry marsh growing premium quality cranberries.
In the late 1980s, Ken's son Kurt came to work on the family marsh, and in 1994 the decision was made for Kurt to buy the marsh, expanding the operations the way he envisioned. Today, the marsh is operated by Kurt along with his children and grandchildren who have made it their mission to continue expanding Riverside Cranberry. Kurt and his family have developed the marsh into 30 acres of high-yielding vine varieties.
Riverside Cranberry separates itself from other family-owned farms in its dedication to preserving and improving the land and finding ways to ethically produce top-quality cranberries. The Rutlin family's next generation is actively engaged in cranberries and intends on managing the marsh and its ethical practices for years to come.
Located in the heart of cranberry country, Necedah cranberry harvests more than 25,000 barrels of premium quality Stevens variety cranberries.
Read More
From Wall Street to the cranberry marsh. After retiring from his career as a stockbroker, Jeff Bentz went looking for ways to spend more time outdoors and in 1996 he founded Necedah Cranberry. Today, Jeff enjoys retirement life while harvesting more than 25,000 barrels of Stevens variety cranberries with his wife, Cindy.
Necedah Cranberry prides itself on growing and harvesting premium cranberries while focusing on conserving water by monitoring irrigation, recycling water through their reservoir system, and using melting snow to help the growth of fresh vines. Additionally, rather than using rented bees, Necedah Cranberry releases its bees into the woods to help their population stay local and thrive. Necedah Cranberry deploys industry-leading good agricultural, environmental sustainability, and social accountability practices and we applauded them for that.